Hey, Erasmus!
New semester is approaching very fast and so is your Erasmus. On behalf of ESN Rīga I would like to welcome all of you in your new city for the next semester. We have worked hard on events for you so you can enjoy your stay and Erasmus in the best way! ESN Rīga invites you to participate in Welcome Week (27.08. - 2.09.) events: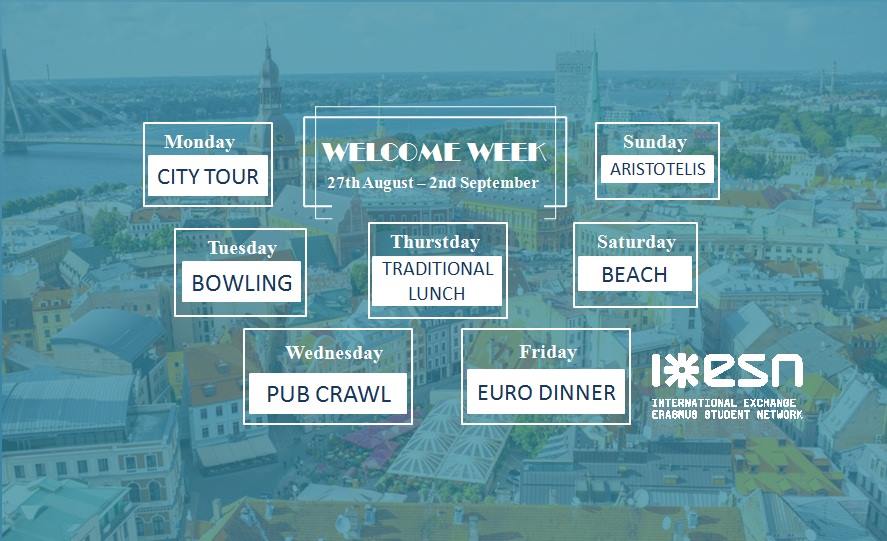 After Welcome Week we invite you to join Welcome Party on 6th of September! More information will be available in our Facebook page very soon.
On 13th of September we will have Boat party. Tickets cost 10 EUR. The ticket includes a trip on the boat Vecrīga, snacks on board and a DJ. Tickets will be sold at office hours next week.
As all of you have asked already, office hours will start from 28th of August. This semester on the first week we will provide office hours at University of Latvia main building (Raina boulevard 19, room 125). In attachment you will find graphic with schedule.
Office hours at University of Latvia main building (Raina boulevard 19, room 125):
Monday (27.08.) - ClosedTuesday (28.08.) - 10:00 - 12:00 and 13:00 - 15:00
Wednesday (29.08.) - 10:00 - 12:00 and 13:00 - 15:00
Thursday (30.08.) - 10:00 - 12:00
Friday (31.09.) - 10:00 - 14:00
In office hours you will have a chance to buy ESNcard and Boat Party (13.09.). Ticket to Aristotelis (2.09.) you can buy in LU Student council office (room 144).
If you haven′t signed up yet for your ESNcard, you can do it here.


What is ESNcard and how can you get it?
ESNcard is a membership card of ESN with which you can get access to all the services offered by the ESN and their partners. With the ESNcard you will be able to enjoy thousands of discounts all over the Europe. The aim of it is to support and give opportunities to international students during and after their exchange. ESNcard is valid for one year.
To get your ESNcard you will have to come to our office hours next week and prepare:
10EUR - cost of ESNcard (can pay only by cash, no cards);
Passport size photo of yourself;
More about ESNcard - https://esncard.org
Local partnerships
Click here to see all our partnerships in Riga where you can have discounts by using an ESNcard! New partners will be announced soon in our social pages.
See you all next week!