STW ARCHIVE
STAFF TRAINING WEEK(STW) 2018
The last week of September, September 25-28, the Staff Training Week-2018 "Digitalization of Higher Education (for academic staff)", organised in cooperation with Alberta College (AK), took place in the University of Economics and Culture (EKA). The STW has already become a tradition, since this is the third year the event is hold in the EKA.
This year guests had come from Italy, Greece, Turkey, Lithuania, Germany, Russia, Bulgaria, Croatia and Slovenia to complement the knowledge.
During the week of training participants learned the organisation of e-learning, got an overview of Moodle and Big Blue Button (BBB) platforms, which the EKA and AK actively use in the study process, as well as of different applications and interactive tools used for higher education. Participants also expanded knowledge on usage of infographics for teaching. Particularly guests appreciated demonstrated business simulation game developed by the EKA that helps students to understand interaction between the various economic processes. Of course, guests had a chance to see Riga.
Detailed event program available in the attachment.
E-learning system: New approach
Application of Digital Interactive Tools
---

STAFF TRAINING WEEK 2017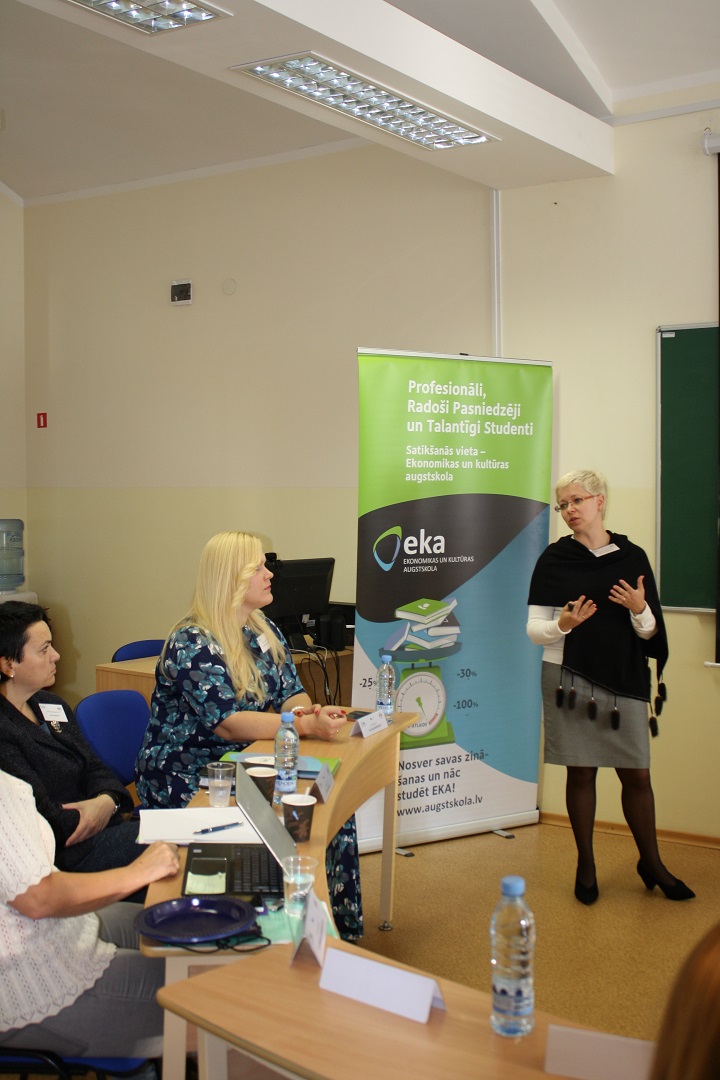 Septembra pēdējā nedēļā, no 26. septembra līdz 29. septembrim, Ekonomikas un kultūras augstskolā norisinājās Staff Training Week 2017- "E-learning: Theory and Practice for Beginners" , kuru organizējam kopā ar Alberta koledžu. Staff Training Week jau kļuvusi par tradīciju, jo šis ir otrais gads, kad šāda veida pasākums notiek mūsu augstskolā.
Šogad zināšanas papildināt bija ieradušies viesi no Lietuvas, Spānijas, Islandes un Ungārijas. Apmācību nedēļas laikā dalībnieki apgūs Moodle un Big Blue Button (BBB) platformas, kuras EKA un AK aktīvi izmanto studiju procesā. Ar plašāku pasākuma programmu varat iepazīties pielikumā.
INSTITUTIONAL PRESENTATION.pptx